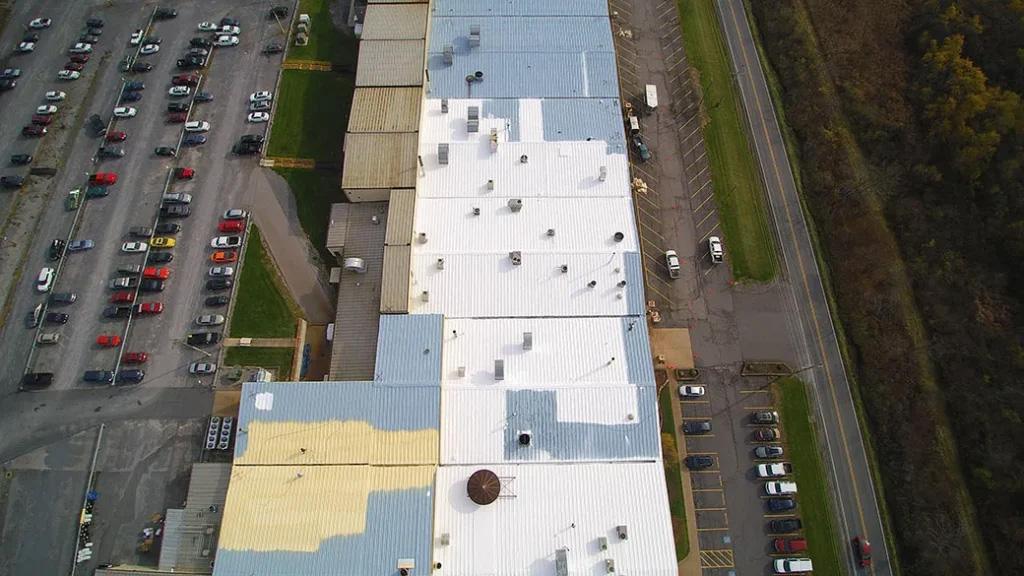 Commercial Roof Replacement Erie PA
Serving Erie PA and Surrounding Regions
At Protech Roofing Solutions, we understand the significance of having a durable and reliable commercial roofing system. If your roof is beginning to show signs of wear or nearing its end of life expectancy, it may be time for a commercial roof replacement. Our team of experienced specialists will provide personalized attention when performing this service so that it meets all of your requirements.
Before we can assess the extent of damage to your roof and recommend whether a replacement is necessary, we inspect it first. Our team will work closely with you to understand your requirements for roofing materials and systems such as metal roofing or EPDM, plus TPO. There are plenty of choices when it comes to selecting a roof material and system that suits you best.
Our commercial roofing specialists possess the skill and experience to take on any replacement project. Only top-quality materials are utilized along with advanced techniques for long-lasting coverage, while we strive to minimize any downtime during installation by working efficiently and effectively.
Protech Roofing Solutions strives for transparency in pricing and honest dealings with its clients. We understand that replacing a commercial roof can be an expensive undertaking, which is why we provide free estimates and competitive rates so you can make informed decisions.
Protech Roofing Solutions is your go-to for commercial and industrial roof replacement in Erie, PA. Get a free estimate and more details by contacting us today!
To learn more about our services, visit our homepage.
We're your #1 Commercial Roofing Company in Erie PA, and we'd love to chat! Contact us today with any questions, and for all your commercial roofing needs!
Your expert erie pa Commercial Roof replacement COMPANY
Commercial Roof Replacement Cost
Costs for commercial roof replacements vary based on several factors, including the size and complexity of the job, material used and labor required, as well as its geographical location.
On average, commercial roof replacement costs range from $5 to $15 per square foot. Some projects may be more costly due to the larger structure's more complex design than smaller commercial buildings.
When estimating the cost of replacing a commercial roof, it's essential to take into account the long-term advantages. A new roof can improve energy efficiency, protect against environmental elements and increase property value.
Protech Roofing Solutions understands the significance of budgeting when replacing a commercial roof. We offer competitive rates and free estimates, plus we work closely with our clients to find financing options and payment programs that suit their requirements and budget.
Commercial roof replacement is a costly investment, but it may be more cost-effective than repairing an outdated or damaged roof in the long run. A new roof provides years of reliable service while avoiding high costs associated with mold remediation and water damage that could arise if your old one fails.
Commercial Flat Roof Replacement
We understand the critical role a strong and reliable roof plays for commercial properties. If you need flat roof replacement services, our team of experienced professionals can provide top-notch workmanship that ensures your new roof remains strong and reliable for years to come.
Flat roofs are commonplace in commercial properties, requiring special expertise for proper installation and upkeep. Our team has years of experience working with various flat roof materials such as TPO, EPDM and modified bitumen and can take on any size job from small office buildings to large industrial facilities.
At our flat roof replacement project in Erie, PA, we only use the highest quality materials to guarantee that your new roof can withstand the elements. Our team will collaborate closely with you to decide the most suitable type of flat roof for your property, taking into account factors like budget, climate and building codes.
At the end of the day, we take great pride in our superior customer service and top-quality craftsmanship. Our team will work efficiently to minimize any disruption to your business operations during the flat roof replacement process. Furthermore, we'll provide regular updates throughout the project so that you're always informed about the progress of your new roof.
If you're in need of a commercial flat roof replacement in Erie, PA, don't hesitate to contact Protech Roofing Solutions. We offer competitive pricing, superior service and unsurpassed expertise when it comes to flat roof replacement. Contact us today to book a consultation and receive a free estimate for your project.
.