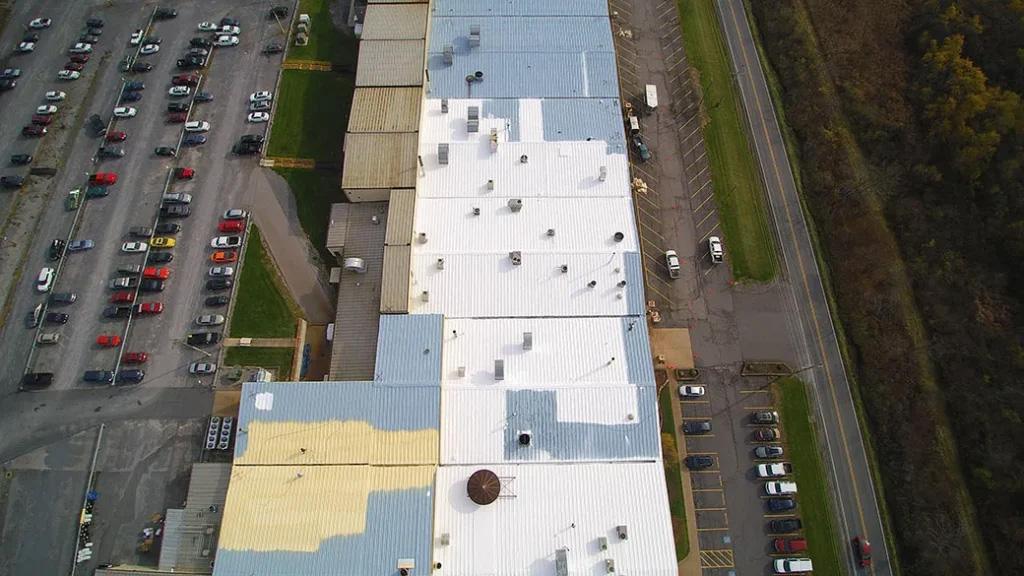 Commercial Roof Installation Erie PA
Serving Erie PA and Surrounding Regions
Protech Roofing Solutions is the premier provider of commercial roof installation services in Erie, PA. Our knowledgeable and experienced staff of professionals is committed to offering dependable and cost-effective roofing solutions for businesses throughout the region.
We understand that installing a new roof can be an expensive investment for your business, which is why we provide various options to fit any need or budget. Our team will collaborate with you to select the ideal materials and techniques so your new roof provides reliable protection for your enterprise.
We offer a range of roofing materials, such as asphalt shingles, metal panels and flat roofing systems – each with their own distinct advantages and disadvantages. Our team will provide you with an in-depth proposal outlining the costs and advantages of each option so that you can make an informed decision for your company's success.
At Protech Roofing Solutions, we understand that time is money and that's why our team works efficiently and effectively to minimize downtime for your business during installation. Our staff will keep you updated throughout each step of the job to guarantee it's done correctly the first time around.
When it comes to commercial roof installation services in Erie, PA, Protech Roofing Solutions is your go-to for reliable and budget-friendly solutions for your business. Contact us today to discover more about our offerings and arrange a free estimate!
To learn more about our services, visit our homepage.
We're your #1 Commercial Roofing Company in Erie PA, and we'd love to chat! Contact us today with any questions, and for all your commercial roofing needs!
Your expert erie pa Commercial Roof Installation COMPANY
TPO Roofing Installers
Protech Roofing Solutions in Erie, PA is the go-to provider for TPO roofing services. This single-ply material has become renowned for its ease of installation, energy efficiency, longevity and cost effectiveness. Our TPO roof specialists possess all of the knowledge and skill to install a system that will offer reliable protection for your company.
Our team only utilizes top-of-the-line materials and employs cutting-edge techniques to install your TPO roofing system. We offer various thicknesses and colors to fit your needs and budget, and will efficiently and effectively collaborate with you throughout the installation process to minimize any downtime.
What is TPO Roofing?
TPO roofing is a single-ply roofing made of thermoplastic polyolefin. Due to its durability and energy efficiency, it is a popular choice for commercial and industrial roofing.
TPO roofing comes in rolls and can either be fully adhered or mechanically attached. TPO roofing is usually white or light-colored. This helps to reflect sunlight and lower energy consumption.
TPO roofing offers many benefits. It can resist UV radiation and weathering as well as being resistant to punctures or tears. TPO roofing is also recyclable and environmentally friendly, making it a viable choice for your company.
TPO roofing installation involves cleaning and preparing the roof, then laying the TPO material and attaching it with an adhesive. TPO roofing is quick and simple, which can reduce downtime for your company.
Liquid Applied & PVC Single-Ply Membrane Installation
At Protech Roofing Solutions, we take great pride in being experts in commercial roofing. Our services encompass liquid applied restorations and TPO & PVC single-ply membranes for commercial buildings throughout Erie, PA.
Liquid applied restorations are an ideal solution for rejuvenating and extending the life of your commercial roof. Our team of skilled professionals can install various liquid applied coatings over various substrates, such as metal, concrete, or modified bitumen. These coatings provide a seamless, durable, energy-saving shield from external elements on your roof.
We specialize in the installation of TPO & PVC Single-Ply Membranes, which are perfect for flat roofs on commercial buildings. These membranes offer a lightweight, flexible, and durable solution that can withstand severe weather conditions as well as excellent resistance to UV rays, chemicals, and punctures.
Our team of specialists are highly trained and experienced in the installation of roofing solutions. We take pride in our attention to detail, superior craftsmanship, and exceptional customer service. We collaborate closely with our clients to understand their individual needs and deliver tailored solutions tailored to fit their specifications.
At Protech Roofing Solutions, we understand the critical need for a reliable and durable roof for your commercial building. That's why we provide various roofing solutions such as liquid applied restorations and TPO/PVC Single-Ply Membranes to safeguard your investment and keep your building safe and secure. Get in touch today to discover more about our commercial roofing services in Erie, PA.
.