---
Top-Rated
Erie, PA Commercial Roofing Contractors
personalized service | quality products | professional installation
---
Choosing an Erie, PA Commercial Roofing Contractor who can deliver quality products and services doesn't have to be a complicated process. There are several important factors to be aware of to ensure you hire a reputable Commercial Roofing Company in Erie, PA, and beyond.
Erie, PA Commercial Roofing Company
Experience and Expertise: The best Erie, PA Commercial Roofers employ a team of knowledgeable professionals with years of experience navigating Commercial Roofing Systems. Their professionals have the tools necessary to assess the condition of your roof accurately, provide recommendations for solutions, as well as carry out the job themselves. At PROTECH Roofing Solutions, our Commercial Roofers have been delivering customized Commercial Roofing Services using quality products while providing exemplary customer service for almost two decades. We happily provide services to Meadville, Sharon, Butler, St Marys, Hermitage, and all surrounding areas.
Our services include:
Quality Workmanship: We understand qualified roofers must take great pride in their work and strive to provide superior craftsmanship that ensures your commercial roof repairs or installation have been done correctly, minimizing risks associated with structural damage or leaks. At PROTECH, we provide guarantees to back our products.
Durability and Longevity: Commercial roofs can be costly investments, so you want them to last as long as possible without needing frequent replacement or repairs. To extend its lifespan, quality roofers use durable materials and adhere to industry best practices. Our Commercial Roof Maintenance plans, which also help to extend the lifespan of your commercial roofing system, are tailored to meet the individual needs of our clients.
Code Compliance: It is crucial that any reliable roofing contractor knows the complex building codes and regulations and the differences in each state they service. This will ensure their work complies with or surpasses them, thus reducing legal issues or penalties in the future. Our extensive knowledge in this area is one factor that has made PROTECH Roofing Solutions the leading Commercial Roofer in Western Pennsylvania, Western New York, Eastern Ohio, and Northern West Virginia.
Safety: When it comes to roofing, at PROTECH, safety is of utmost importance. A professional commercial roofer prioritizes crew members' and occupants' well-being when employing safety protocols to avoid accidents and injuries. Equipment used must meet industry safety regulations; training received is also key for avoidance.
Guarantees and Warranties: Many commercial roofers offer warranties and guarantees on their work or materials, providing peace of mind if any problems arise within their warranty period. Searching online for "Commercial Roofers Near Me" will display many results. But not all of these Commercial Roofing Companies offer guarantees. PROTECH provides guarantees to cover your Commercial Roof Installation for up to 20 years.
Timeliness: Our Commercial Roofers prioritize the timely completion of your project, with plans and schedules in place that ensure your commercial roofing project does not cause unnecessary disruptions to your business operations.
Transparent Pricing: Like all the Best Commercial Roofers, at PROTECH Roofing Solutions, we provide clear and transparent estimates that cover labor, materials, and any fees or extra charges associated with the project. No surprises midway!
Local Knowledge: Hiring a Commercial Roofer who has serviced clients in your area demonstrates they have insight into the local climate, weather patterns, and any other factors that may impede upon your roof's performance. Their expertise could, and should, impact which materials or recommendations they provide as solutions.
Selecting an experienced and reputable commercial roofer in Erie, PA and beyond will ensure the safety, longevity, and functionality of your commercial building's roof. Doing so can not only save money but also reduce stress, providing peace of mind for years to come. So don't wait! Call PROTECH Roofing Solutions today!
At Protech Roofing Solutions in Erie, PA, we pride ourselves on delivering top-notch commercial roof repair solutions tailored to meet diverse needs. Recognizing the critical role your commercial roof plays in safeguarding both assets and personnel, we offer specialized services for different roofing types. For flat roofs, we adeptly tackle challenges like ponding water and leaks arising from wear and tear, ensuring your roof's durability and longevity.
When it comes to metal roofs, celebrated for their durability and minimal maintenance, we understand issues like corrosion and leaks can still emerge. Our team is expertly trained to handle these complications, whether your roof is standing seam, corrugated, or ribbed panels. Furthermore, we excel in rapidly pinpointing and rectifying roof leaks and identifying root causes from membrane damages to faulty flashings.
Beyond just addressing existing issues, we're staunch advocates of preventative care, offering regular maintenance to stave off potential complications. Recognizing the urgency some situations demand, we provide a 24/7 emergency response service, solidifying our unwavering commitment to your business. For comprehensive roofing solutions in Erie, Protech Roofing Services is your trusted partner. Reach out to us at (814) 694 4300 for both preventative and immediate roofing needs.
We're Erie, PA's foremost authority in commercial roof installations. Our seasoned team delivers both dependable and cost-conscious roofing solutions tailored for businesses. We recognize the weight of a roofing investment, and therefore, we offer a plethora of options designed to cater to every business need and budget. From asphalt shingles to metal panels and flat roofing systems, we ensure you're armed with a comprehensive proposal detailing the merits and costs of each alternative. Our priority? Efficient, top-notch service with minimized business disruptions during installations.
TPO Roofing has garnered credit for its cost-effectiveness, longevity, and energy efficiency. As Erie's leading TPO roofing provider, we boast a crew well-versed in the complexities of this single-ply material, promising a robust protective shield for your business. Curious about TPO? It's a durable, energy-efficient thermoplastic polyolefin, generally white or light-hued to optimize sunlight reflection and energy conservation. Quick to install, TPO ensures your business operations resume in no time.
Dive deeper into our expertise, and you'll find us excelling in liquid-applied restorations and TPO & PVC single-ply membranes. These roofing choices serve as ideal responses to the diverse challenges commercial roofs encounter, from UV resistance to puncture protection. With Protech Roofing Solutions, you're not just investing in a roof; you're ensuring your commercial property's security and longevity. Connect with us to delve into our suite of roofing solutions in Erie, PA.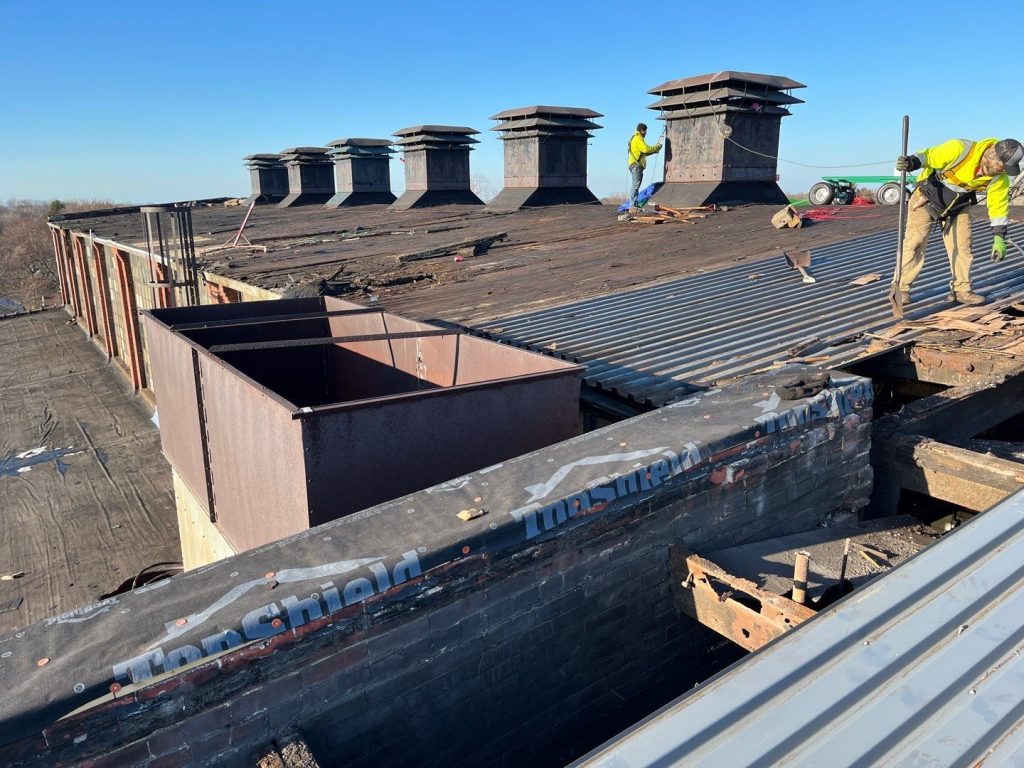 Protech Roofing Solutions, in Erie, PA, is your trusted partner for all roofing restoration requirements. Specializing in commercial, industrial, and metal roofs, we take pride in offering top-tier services. With a skilled team on board, we first inspect your roof carefully to spot any issues. Based on what we find, we use top-quality materials to fix it, whether it's a minor repair or a more extensive restoration. Industrial roofs can be vast and complex, but our team is trained to tackle even the most challenging tasks.
Metal roofs come with their own set of needs, from rust removal to panel replacement, and we're equipped to handle it all. Our main goal? To ensure your business continues smoothly with minimal disruption. Above all, we believe in transparency when it comes to costs. So, if you're in Erie and looking for dependable roofing experts who offer clarity in services and pricing, Protech Roofing Solutions is the name to remember.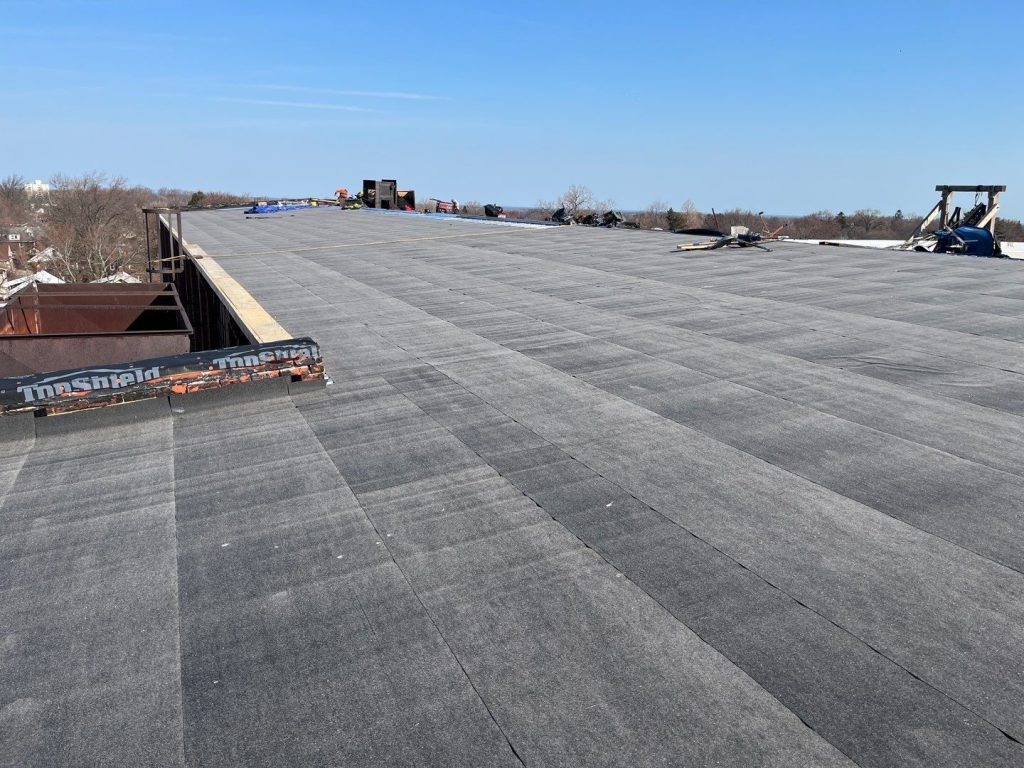 Protech Roofing Solutions in Erie, PA, emphasizes the significance of routine commercial roof checks for the safety and durability of buildings. Our seasoned team evaluates roofs for damage or wear using modern tools like thermal cameras and drones. We ensure proper drainage, identify and fix any issues like leaks, and offer guidance on maintenance to extend your roof's lifespan.
Additionally, we're experts in TPO roofing, a single-ply material known for its benefits. Our specialists use the best materials and methods to set up TPO roofs tailored to your preferences. With our focus on quality and customer service, we promise minimal disruptions during our services and aim to keep your commercial roof in top shape. Reach out to us for reliable roofing solutions in Erie, PA.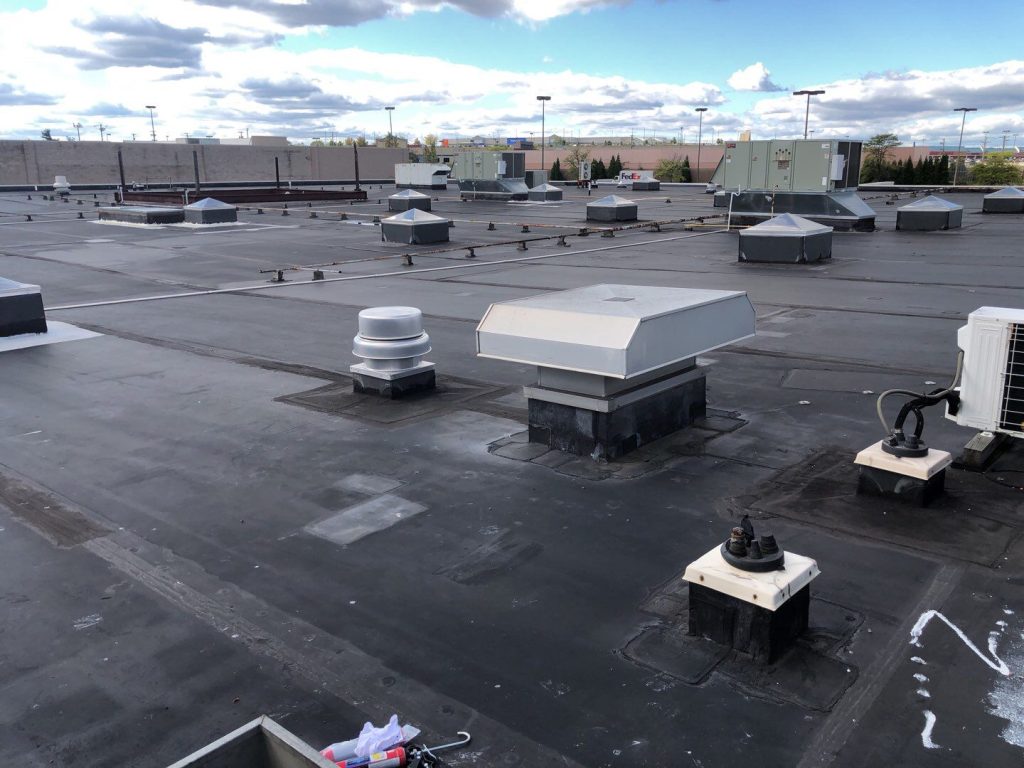 Protech Roofing Solutions in Erie, PA, offers commercial roof maintenance and cleaning to extend its lifespan and safeguard building occupants. Our skilled team works with clients to create a custom maintenance plan. We check roofs thoroughly, spot problems, and fix them quickly. We use eco-friendly cleaning agents to remove dirt and harmful buildup, ensuring good water flow. We're especially watchful for algae or moss, treating areas to prevent further growth. We're proud of our high-quality service and advanced tools, ensuring efficient work with little business disruption.
Additionally, we emphasize proactive maintenance to prevent future costly repairs. This involves regular checks for issues, roof coatings for added protection, and ensuring gutters and drains work properly. This maintenance helps roofs last longer, saves money, and keeps everyone in the building safe. Our team is always ready to offer top-notch roof care in Erie, PA. Contact us for a personalized maintenance plan to keep your roof in great shape for years.
At Protech Roofing Solutions in Erie, PA, we recognize the need for robust commercial roofing. If your roof is aging or damaged, consider a replacement. We offer individualized services, inspecting your roof and aligning with your preferences for materials like metal, EPDM, or TPO. Our skilled team ensures quality installations using premium materials.
Commercial roof replacement costs vary, with prices typically between $5 to $15 per square foot. However, a new roof offers long-term benefits like energy savings and increased property value. For those with flat roofs, we bring specific expertise, and proficiency in materials like TPO and EPDM. In all projects, we prioritize excellent service and craftsmanship. For commercial flat roof replacements in Erie, PA, reach out to Protech Roofing Solutions for competitive prices and expert consultations.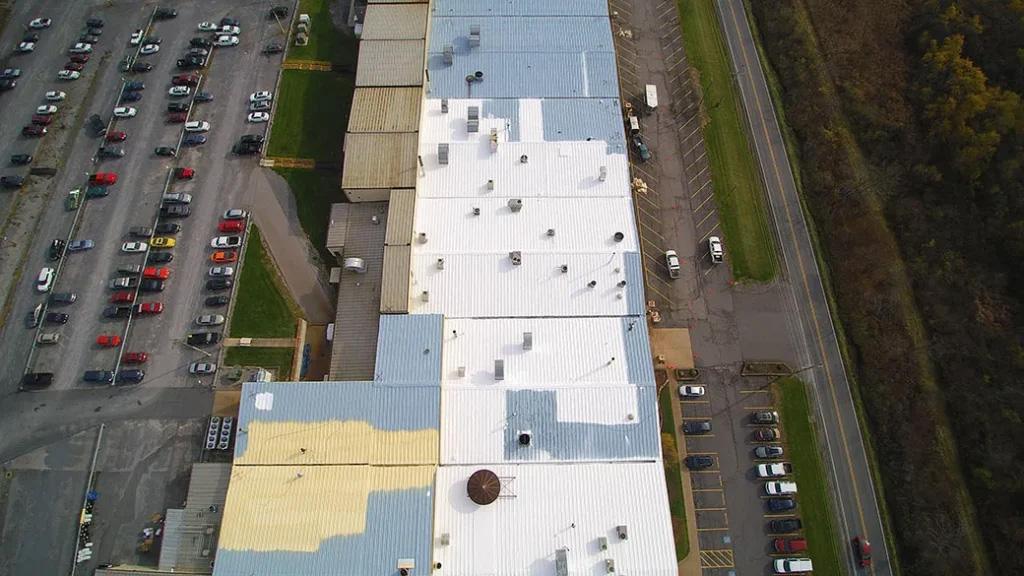 About Protech Roofing Solutions
PROTECH Roofing Solutions, Inc, based in Townville, PA and servicing western Pennsylvania, western New York, eastern Ohio, and northern West Virginia, is a service-based company committed to meeting your commercial roofing needs with personalized service and professional installation of quality products. The bottom line is that a commercial roof is a long-term investment—not just another expense. PROTECH will ensure that your roof is energy-efficient with low maintenance and guaranteed for up to twenty years . You can be sure that Conklin Roofing Systems installed by PROTECH is a smart investment to keep your bottom line strong. We specialize in Conklin Roofing Systems, specifically acrylic roof coating, single-ply systems and urethane roof coatings. with over 15 years of tested, proven, and trusted performance to deliver unsurpassed value for commercial building owners and property managers.
Need a New Commercial Roof? Watch the following video to see what we can do!
Have a Commercial Roofing Project in Mind?
Frequently Asked Questions
How much does commercial roofing cost in Erie, PA?
The cost of commercial roofing in Erie, PA varies based on factors like material, size, and complexity of the project. Typically, prices can range from $5 to $15 per square foot, but it's essential to get multiple quotes and consider long-term benefits. We at Protech Roofing Solutions offer competitive rates and top-notch workmanship, making us a top choice for commercial roofing needs in Erie, PA.
What are popular commercial roofing materials used in Erie, PA?
In Erie, PA, popular commercial roofing materials include EPDM (rubber roofing), TPO (thermoplastic polyolefin), metal roofing, and modified bitumen. Each material has its advantages, catering to different needs and budgets. For top-quality installation and advice on the best material for your property, call us at 814.694.4300.
Are there any commercial roofing regulations or codes in Erie, PA?
In Erie, PA, there are specific building codes and regulations related to commercial roofing to ensure safety and durability. These codes cover aspects like material standards, weight load, insulation, and fire resistance, among others. It's crucial to consult local building departments or professionals for detailed information. For compliance with all local codes and high-quality service, Protech Roofing Solutions is your top choice for commercial roofing in Erie, PA.
How often should I get my commercial roof inspected in Erie, PA?
Regular roof inspections are vital for maintaining its condition. In Erie, PA, due to varying weather conditions, it's recommended to have your commercial roof inspected at least twice a year, ideally in the spring and fall. Additionally, inspections after major weather events can prevent minor damages from worsening. For thorough and reliable inspections, Protech Roofing Solutions is your leading commercial roofer choice in Erie, PA.
Who are the best commercial roofing contractors in Erie, PA?
The best commercial roofing contractors in Erie, PA can be determined by factors such as reviews, experience, and quality of work. To find the best, you should consult with Protech Roofing Solutions. We are one of the best commercial roofing contractors in Erie PA and the surrounding area.